How to Become a Nurse anesthetist
The rewards of being a nurse anesthetist are remarkable, and like anything worth having it requires a significant amount of dedication and commitment. Here are the steps you'll need to take in order to become a CRNA:
Earn your Bachelor of Science in Nursing – 4 years
Get licensed as a Registered Nurse – Eligible Upon Graduation
Gain experience working as a Registered Nurse in the Intensive Care Unit (ICU) – 1-3 years
Apply to and Get Accepted by an Accredited Nurse Anesthesia Program
Attend an accredited nurse anesthesia program – 2-3 years
Take and pass the National Certification Examination for Nurse Anesthetists – Eligible Upon Graduation
Find a job as a CRNA! Check out the nurse.org job board for the latest nursing jobs in your area.
Did you know you can become a CRNA, even if you have a low G.P.A.? You can! Read Wali Khan's article, 7 steps to take if your grades are not ideal.
Let's take a closer look at what each step entails.
1. Earn your Bachelor of Science in Nursing
Though there are several paths to becoming a Registered Nurse, the one that will provide you with the greatest opportunity and the educational background that is fast becoming the standard is the Bachelor of Science in Nursing (BSN).
This four-year degree provides you with foundational knowledge in topics ranging from health assessments and pathophysiology to anatomy and pharmacology. BSN programs incorporate clinical rotations through the various care departments in hospitals and clinics, exposing you to a wide range of patients and colleagues to give you a well-rounded nursing education.
Keep in mind as you are pursuing your undergraduate studies that early academic achievement will be rewarded with greater opportunities and more options in the future. The better your grades and recommendations you receive from undergraduate faculty, the better your chances of being accepted into the accredited nurse anesthetist program of your choice.
Most programs have a minimum GPA requirement of 3.0, and acceptance is becoming increasingly competitive. Don't let the G.P.A requirement scare you away – here are 7 Tips To Getting Into CRNA School, Even With a Low G.P.A. 
2. Get Licensed as a Registered Nurse 
Once you have earned your Bachelor of Science in Nursing you will be eligible to take the examination required to become a Registered Nurse.
This test, called the NCLEX-RN, or National Council Licensure Examination for Registered Nurses, is administered by the National Council of State Boards of Nursing (NCSBN). Every state has its own requirements for licensure and process for exam registration, so make sure that you are familiar with the requirements as they apply to you and your locale.
3. Gain Invaluable Experience Working as an ICU Registered Nurse 
Though your undergraduate clinical rotations will have exposed you to a wide range of care settings, nurse anesthesia programs generally prefer candidates who have experience appropriate to the field – those who have worked in the intensive critical care unit (ICU) with adult patients.
You will put yourself in the most optimal position for being accepted to a program if you have a minimum of one year (greater than 1 year is preferred) of experience working in an adult intensive critical care unit (ICU).
Pursuing certifications that demonstrate this experience (such as a Critical Care Registered Nurse Certification) will further enhance your resume and make you more attractive to those who will review your nurse anesthesia program application.
Another way to boost your chances is to shadow a working nurse anesthetist. This will not only demonstrate your commitment to the field but will also provide you with valuable insights into what your future as a nurse anesthetist holds.
4. Apply to and Get Accepted by an Accredited Nurse Anesthesia Program 
As the need for nurse anesthetists has grown, so too have the number of accredited nurse anesthesia programs. CRNAs historically have been able to earn either an MSN or DNP; however, by 2025 CRNAs will need a doctorate degree.
As of February of 2020, the AANA website indicates 123 accredited nurse anesthesia programs available. Getting accepted into these programs requires that applicants demonstrate a commitment to the field of nursing and to the study of nursing practice. Though every program has its own unique focus and requirements, most have certain elements in common, including:
Minimum of two years' experience working as a Registered Nurse
Minimum of one year working in an acute care setting
Valid RN licensure
BSN degree or Bachelors' degree in a related field of study, including completion of prerequisite courses in human anatomy, microbiology, chemistry, physiology and statistics
Minimum GPA demonstrated in college transcripts: may require 3.0 in related science studies
Excellent communication skills
References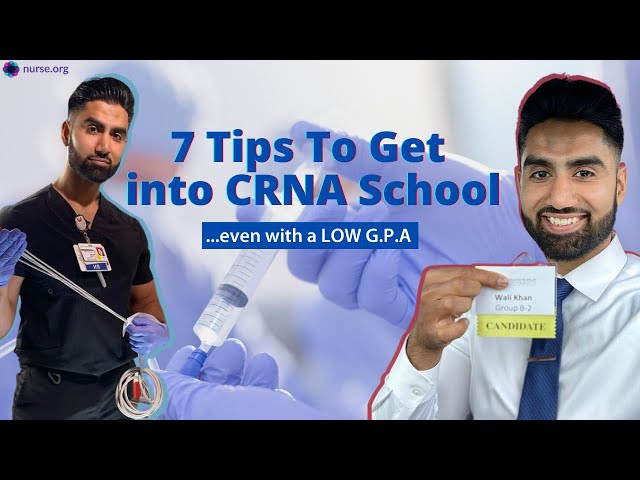 Nurse anesthesia programs value candidates who demonstrate attention to detail. Make certain that you read each school's application requirements carefully to ensure that you are providing the exact information that they are looking for.
5. Attend an Accredited Nurse Anesthesia Program 
In recent years, a growing number of accredited nurse anesthesia programs have moved beyond the standard of educating towards a Master's Degree upon graduation, and instead are providing a didactic level geared towards a doctoral degree.
Depending upon which accredited nurse anesthesia program you are accepted by and choose to attend, earning your degree will take between two and three years and will provide both high-level classroom work and clinical practice.
6. Take and Pass the National Certification Examination for Nurse Anesthetists
The final step required before applying for an entry-level position as a nurse anesthetist is passing the National Certification Examination (NCE).
This three-hour test is conducted on a computer and evaluates the knowledge, skills and abilities that every accredited nurse anesthesia program provides.
Once you pass the exam and have become a CRNA, you must maintain certification, which involves recertifying every four years and taking a new test every eight years. Recertification requires the completion of 100 units of continuing education in a variety of areas including pathophysiology and anesthesia technologies.